We're a non-political, non-sectarian, faith-based organization dedicated which has built the first dedicated children's hospital in Uganda to give children the opportunity to survive and thrive, so they can participate in the growth and development of their beautiful country.
Board of Directors

Anita J. Hunter, PhD, RN
Director. Professor, College of Nursing, Washington State University

Bonaventure Turyomumazima, PhD
Director. Chancellor of Mbarara Diocese

Lane Freestone, MBA
Co-Founder & Director. Business Executive

Msgr. Dennis Mikulanis, S.T.D.
Director, Ecumenical/Interreligious Relations
Catholic Diocese of San Diego; Pastor, San Rafael Parish

Scott Schafer, Esq.
Director. Attorney at Law.

Florence Kyomugisha, PhD
Director. Associate Professor, Gender and Women's Studies Department, California State University, Northridge.

Michael Lynch
Director. Business Executive

R. Lee Haney
Director & CFO

Michael L. Levy, M.D., PhD, FACS
Director. Professor and Chief, Division of Pediatric Neurological Surgery, UCSD, Rady Children's Hospital San Diego

Patty Garczynski, Director
President, CEO of Tony Garczynski Dev. Inc.

Miles Himmel, Director
Producer, KFMB Stations
For more information, please contact us at info@HolyInnocentsUganda.org.
A Tribute to Tom Thomas, Founder of Holy Innocents Children's Hospital Uganda, Inc.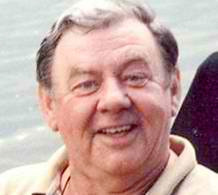 Harold J. "Tom" Thomas, founder of Holy Innocents Children's Hospital Uganda, passed away on Sept. 16, 2011. He was 82. Tom was the force that made the hospital a reality. When Ugandan Archbishop Paul Bakyenga visited San Diego in 2005, Tom asked the Archbishop if there was anything Tom could do to be of assistance. Archbishop Bakyenga replied, "Yes, you can build the first children's hospital in Uganda. Too many children die from malaria and other treatable diseases."
Others may have shied away from that challenge, but not Tom. In 2006 he began planning for the hospital. In 2007 he put together a team of medical, business, academic and legal professionals as well as local and Ugandan clergy, and guided the team with a vision of "Better health through better medical care and prevention for the children of Mbarara, Uganda."
Through Tom's inspiration, the team broke ground in 2008, completed the hospital in 2009, and at the time of Tom's passing the hospital had treated over 40,000 children. Everyone who was close to the hospital project in its early days acknowledges that, were it not for Tom, there would be no hospital.
Archbishop Bakyenga wrote a letter of condolence to Tom's family and friends, describing Tom as a man of foresight, hardworking, with "a soft spot for children." Archbishop Bakyenga's letter can be found here.
Tom's vision, compassion and action have resulted in thousands of children being saved. Rest in peace, Tom, and may God bless you for a job well done…!