Holy Innocents Children's Hospital has been blessed with volunteers from all over the world. Eleanor Hayes, RGN. MSc. is a consultant based in Belfast, Northern Ireland with over 34 years' experience including expertise in the administration of third-world health facilities. In January, 2009, Eleanor travelled to Mbarara and generously volunteered her time to Holy Innocents to help finalize the configuration of the hospital and advise on hiring and logistical issues. Holy Innocents teams in Mbarara and San Diego alike found her advice and experience to be invaluable. The quality and effectiveness of the hospital have been improved thanks to her contribution.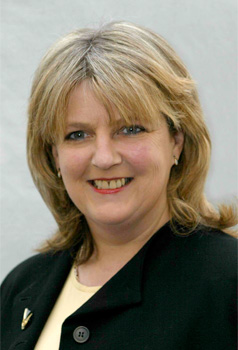 Patricia O'Callaghan, RN, ONC, MBA is an experienced hospital Director, also from Belfast, Northern Ireland. One of Patricia's life goals has been to serve in Africa helping those in need. Patricia is retiring from her active role in The Belfast Health and Social Care Trust and has volunteered to spend six months in Mbarara starting in June 2009 to help open the hospital and mentor the administrative and nursing staff to enhance their ability to care for children in a specialized pediatric hospital. God bless Patricia for her passion and service to Holy Innocents Children's Hospital and the children of Mbarara.
Canadian Rachel Yance and San Diegan Andrea Ferrada are RNs who have been serving people in need internationally for the past two years. Both have extensive experience in emergency room nursing, flight nursing, and helping those who have been victims of natural disasters (Hurricane Katrina and the 2004 Indian Ocean tsunami). Both have had a desire to serve in Africa and heard about our Holy Innocents work from the USD Alumni News and our website. They are volunteering to spend three months in Mbarara working with the nursing staff to expedite the community health educator program, under the direction of Patricia O'Callaghan and Sister Margaret Katyoko.
Note: This article was originally posted on May 25, 2009.