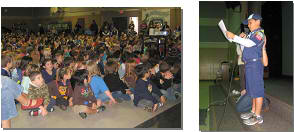 Turtleback Elementary student Aaron met Fr. Bonaventure last summer and learned that the children of Mbarara needed a hospital. His 8th birthday was coming so he decided to ask his birthday guests to bring school supplies for the children of Mbarara instead of presents. Later, Aaron saw a video describing the serious diseases Mbarara children suffer from. He was very sad and wanted to do more to help, but didn't know what a small boy could do for so many in need.
Then Aaron had a dream in which God told him how he could make a difference. Aaron and two friends went to Turtleback Principal Celeste Campbell and asked if they could tell the story of the hospital to the entire school. She agreed and arranged for the boys to speak at a "Friday Flag" assembly. That week, teachers also incorporated facts about Uganda into their class lessons.
During the assembly, Aaron played Michael Jackson's "Man in the Mirror" and showed students a video of Holy Innocents Children's Hospital. He spoke about the diseases children face, and quoted Michael Jackson: "If you wanna make the world a better place, then start with yourself and make a change." Aaron then asked his classmates to participate in a "Change for Children" campaign.
The response was amazing! Kids brought change from their piggy banks. One little girl brought some coins one day, then came with more the next day, telling her teacher, "I was going to keep these 50-cent pieces, but I can always save more, and those children really don't have anything…."
The students of Turtleback Elementary have raised nearly $1,000 for Holy Innocents Children's Hospital. They have learned about Uganda and have shown an extraordinary ability to turn their compassion into action for the children of Mbarara. Our heartfelt thanks to them all!