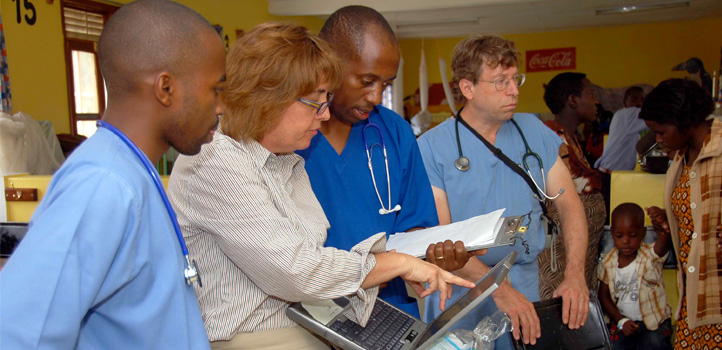 The team taught the HICH nursing and medical staff how to operate the NICU area, run the equipment, provide respiratory care for children, neonatal and child CPR, intraosseous insertion, emergency triage and management, and pediatric assessment.
In the community, they taught and conducted developmental assessments of children from birth to age 8, assessed the nutrition of children in Mbarara and two outlying villages, conducted nutrition focus groups with parents and children, performed physicals at St. Aloysius Elementary School and developed a nutrition education class for the staff and students at St. Francis Academy.
The staff at HICH and mission members Drs. Mary, Priscilla, Chuck, and Frank saved many children who would not have survived if our hospital was not there. Dr. Mary found a severely disabled young boy in a home in Mbarara and was able to get him and his mother help through the OURS program and St. Francis Social Workers. Dr. Frank spent 3 nights working the night shift with one of the clinical officers to help with all the difficult cases that were admitted to the hospital. Dr. Priscilla and her nurses were magnificent in the work they did with the critically ill newborns. And the USD students were phenomenal in the hospital support work they did and all the community work they completed.
Universities and Institutions represented on this medical mission to HICH in Mbarara included University of California San Francisco; University of Washington, Seattle; San Diego University; Columbia University; Lusaka University and Children's Hospital and Research Institute Oakland.
In addition to the activities described previously, our July 2010 medical mission to HICH accomplished the following:
Established a working relationship between the medical school at Mbarara University of Science and Technology and Children's Hospital Oakland
Initiated a partnership with St. Francis Academy to prepare Community Health Educators and initiate this program by January 2011
Began a collaboration with the OURS Rehabilitation facility to care for the neurologically and developmentally disabled children at HICH and in the community
Built high-flow oxygen delivery systems
Conducted joint classroom work on African cultural and religious practices and their effects on mental and physical health and treatment