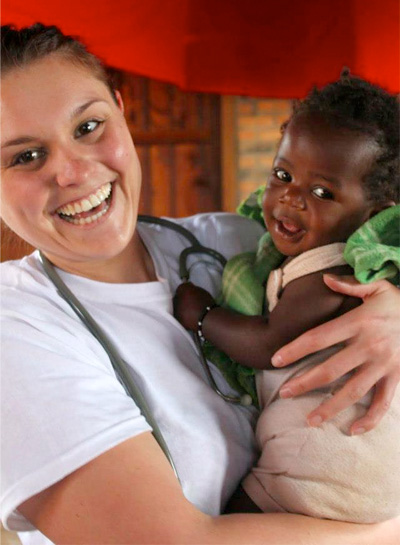 A team of 20 volunteers traveled to Mbarara, Uganda in January to work at Holy Innocents Children's Hospital (HICH) and in the community of Mbarara in an effort to help improve the health of the people living in Mbarara District. The team was comprised of 11 nursing students from Dominican University of California and three of their nursing professors including Anita Hunter, PhD, RN who is Dean of Nursing and a HICH Board member; one lawyer working with domestic violence issues in Uganda; two chemistry professors from the University of San Diego and three USD chemistry undergraduate students working on water quality issues in the Mbarara region. The team was in country from January 5 through January 19, 2013 and accomplished the following:
Spent one week in the community of Kibona conducting environmental and patient assessments to ascertain what health problems were being exhibited secondary to the environment, especially contaminated water, poor hygiene, inadequate malaria prevention, and cultural practices that contribute to severe health problems in the children cared for at HICH. Trained the Ugandan nurses how to perform a community assessment and physical assessments to determine health problems.
Collaborated with the Ugandan nurses from HICH to present a Health Fair to the community to help them create a more hygienic environment, protect their children from malaria, prepare clean water, and take better care of themselves.
Worked with the community to develop programs to protect women and children from domestic violence; to care for the abandoned women and disabled children; and to care for home-bound elders.
Completed 15 home visits to provide care to home-bound patients (children and elders) and those recently discharged from HICH who had fragile health problems.
Worked in the hospital with the Ugandan nurses and doctors and provided an in-service educational program.
Our sincere thanks to the volunteers and team leader Dr. Anita Hunter!